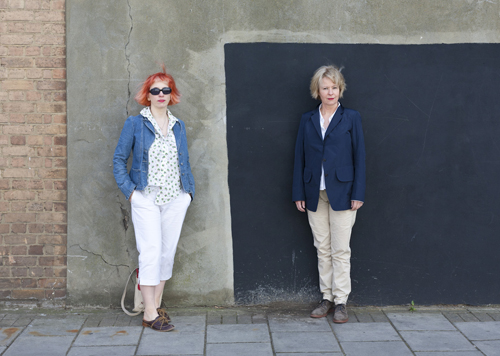 Based in the East End of London Cannon and Morley Productions (CAMP) is run by Writer/Director Carol Morley and Producer Cairo Cannon. They have made award winning shorts, documentaries and features that have played in cinemas, on TV, in galleries and at festivals world wide. Films include The Alcohol Years, Edge, Dreams of a Life and The Falling.
Writer/Director – Carol Morley
Carol Morley left school at sixteen and formed her Manchester band TOT who were "going to be bigger than the Beatles before the next gas bill came around" but never were. After this she moved to Devon and London before eventually going to Central St Martins and studying fine art film and video.
Morley was awarded an Arts Council grant to explore her scurrilous teenage past and turned them into The Alcohol Years, a BAFTA nominated film that received a Grierson Award. Interested in not just telling stories, but in how stories are told, she has made a number of award winning films that blur the line between fact and fiction. In December 2011 her feature film Dreams of a Life, which goes behind the anonymous newspaper headline of a thirty-eight year old woman who lay dead in her flat for three years, was released in cinemas to critical acclaim. Dreams of a Life received its network premiere on Channel 4 in February 2013, was released in cinemas and on DVD in the USA and Australia, and was nominated for several awards including BIFA, Grierson, Evening Standard and London Critics Circle. The Falling premiered in competition at the 2014 BFI London Film Festival, showed in competition at the Beijing International Film Festival, and also screened at selected festivals including Karlovy Vary, Copenhagen, Munich and Dublin. It was nominated for Best Screenplay at the Evening Standard Film Awards and nominated for Best Film at the BFI London Film Festival.
In 2015, Morley took part in BAFTA's Brits to Watch Screenings in New York and Los Angeles with The Falling, and was selected for The Times Real Stars of 2015. Morley is the Wellcome Trust Screenwriting Fellowship recipient 2016.
Carol Morley is represented in the UK by Matthew Bates of Sayle Screen.
Producer – Cairo Cannon
Cairo Cannon is Managing Director of Cannon and Morley Productions (CAMP). She produced Dreams of a Life with James Mitchell which premiered at the BFI London Film Festival and SXSW in the USA. With Genesis Entertainment Cannon produced Morley's feature film Edge which also premiered at the BFI London Film Festival and was an official selection for the Shanghai International Film Festival. Both films were released theatrically and are available on DVD and VoD including iTunes USA & UK. Cannon produced Morley's The Alcohol Years, winner at Melbourne International Film Festival. The Falling featuring Maisie Williams, Maxine Peake and Florence Pugh is CAMP's first co-production with Luc Roeg and Independent. Cannon has executive produced films for Film London, the Tri-Borough Film Fund and the artists Curious.